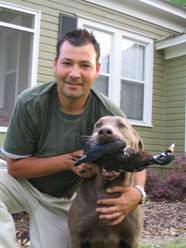 After working in the business for over 20 years, Silver and Charcoal Kennels has learned a thing or two about raising top-quality Labrador retrievers. Of course, it takes a lot of patience and nurturing to breed the best dogs around, but most of all, it takes true heart. Which is where we proudly come in.
Yes, it's true that most of our Labrador bloodlines go back two decades. Within that time, Silver and Charcoal Kennels has taken the utmost care to preserve both our breeders and their offspring. In that way, all of our puppies are born with stable temperaments, supreme health, and an unparalleled loving nature. Not to mention a 2-year health guarantee and up-to-date vaccinations promised by yours truly.
Silver and Charcoal Kennels also sticks closely beside our Labradors until they've reached around 8 weeks of age. From there, we offer the option of shipping your new family member safely to your doorstep. It's ultimately up to you, but no matter what happens, we promise to find any way to reunite you with a cuddly companion in no time.
To learn more about us, please feel free to take a look around our site or give Silver and Charcoal Kennels a call at (662) 299-5435.